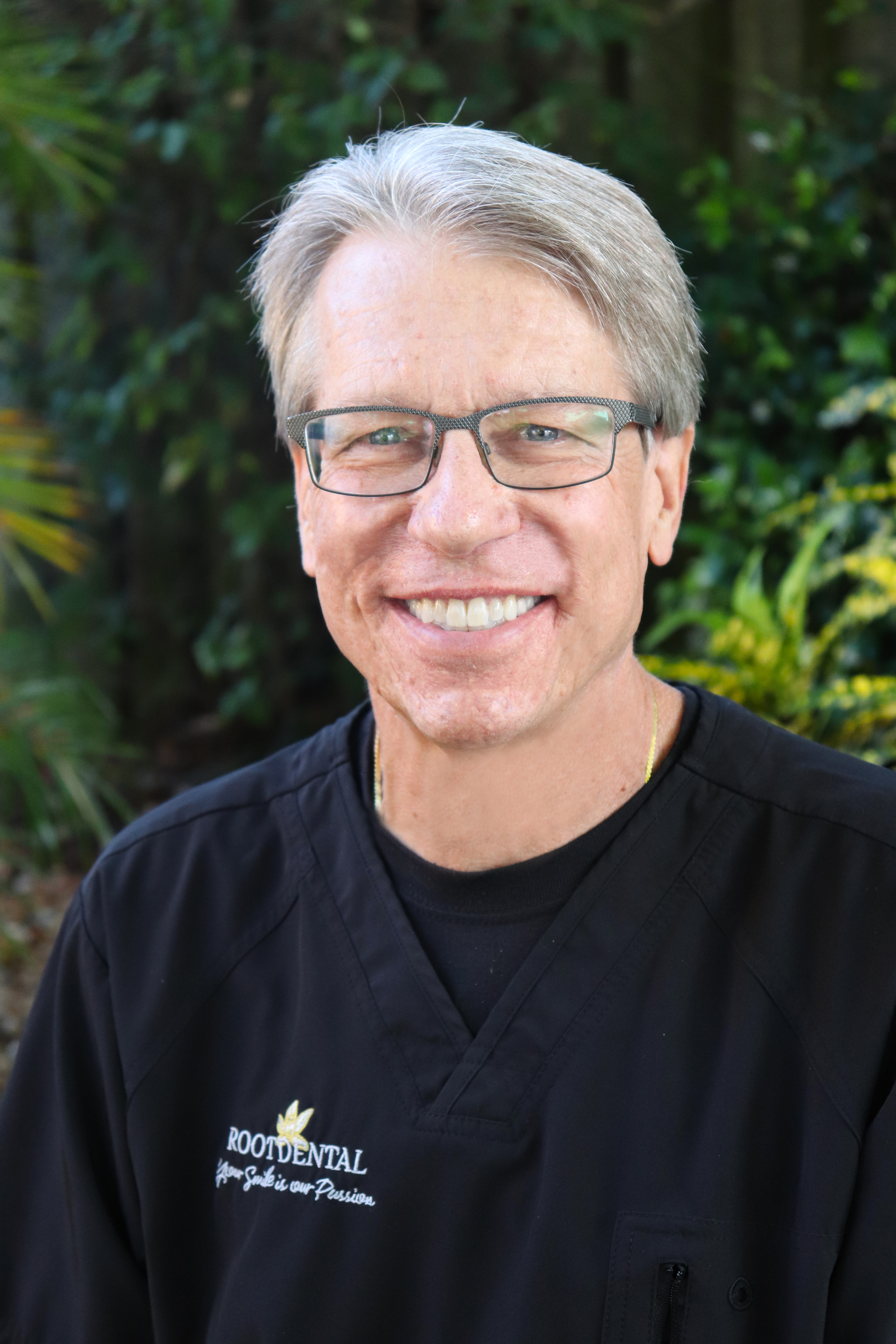 Meet Dr. Root
Born and raised in Ohio, Dr. Root says he has always loved the biological sciences and enjoys working with people, so choosing dentistry was natural for him. By the time he was in high school, playing football and baseball, Dr. Root was already in the journey to pursue his career in dental sciences.
He earned his Bachelor of Arts degree from Miami University in Oxford, Ohio, and then moved to Florida, where he worked as a research assistant and high school science teacher before pursuing his Doctor of Medicine in Dentistry at the University of Florida. During this time, his wife stayed in Vero Beach and worked to support him, and when he graduated in 1989, he returned to Vero Beach to be with her and start his dental practice. Since then, he has actively pursued continuing post-doctoral education, mastering the newest methods and technologies in the field of cosmetic dentistry. He is a graduate of four levels of advanced dental education at the Pankey Institute in Key Biscayne, and he has also studied reconstructive dentistry at Spear Education, the University of Florida, and Gordon Christensen seminars.
Dr. Root is a professional member of the American Academy of Cosmetic Dentistry, Academy of General Dentistry, American Dental Association, Florida Dental Association, and Treasure Coast Dental Society. He is also a member of the Christian Dental Society, whose mission is to offer dental relief to those in need around the world.
OUR TREATMENT PHILOSOPHY
"Every member of our team of hand-picked professionals shares a deep commitment to strive for excellence in each and every thing that we do, with every single patient, every single day," says Dr. Root. "Our treatment philosophy is the core of what we do, and when you experience this level of engagement with every team member, it's really an inspiration.
"Meeting so many wonderful people from so many interesting and varied backgrounds has been such a benefit to me in my profession," he continues. "I have learned that developing a relationship with my patients has been the key to our practice's success. It is so rewarding when you have the sense of trust between patient and doctor that we have developed. This allows me to give my patients beautiful smiles, comfortable chewing, and function that will last for years.
"We believe in preventative dentistry, and we educate our patient on the causes of and solutions to their dental problems. Our hygienists are gentle, friendly, and experienced professionals. We feel strongly about the fact that periodontal health, or the health of the gums, is as important as tooth health, and our patient education and treatment planning reflect that.
"Whenever possible," Dr. Root says, "I try to develop a treatment plan to preserve the patient's natural teeth. I offer treatment choices and educate my patients, so they can then make a treatment choice that fits them best personally. Until a sense of trust has been developed, there really is no doctor/patient relationship. Once our patients realize that we are 'in it' for them and that we offer treatment plans that are in their best interest, we have a relationship where we can work as a team and truly improve their oral health.
"We feel that aesthetics is a personal issue," said Dr. Root. " We help our patients achieve any level of dental aesthetics that they choose. We work with some of the best dental labs in the country and strive for excellence in every procedure."
"In addition, function in dentistry is essential. I have had extensive training in occlusion, or how the teeth fit together in the bite, at the Pankey Institute and the University of Florida. I also work with specialists who are my colleagues, and we use interdisciplinary dentistry to rehabilitate the chewing function. In many cases, patients who have suffered dysfunctional chewing and pain for years are able to experience comfortable function again."
A LIFE DEDICATED TO SERVICE AND COMMUNITY
Dr. Root has been happily married since 1977, and his wife is a registered dietitian and certified diabetes educator. Their daughter is a recent graduate of the University of Alabama College of Law. They are a close family and enjoy spending time together with their Great Dane, their three kitties, and their friends.
When talking about his Vero Beach home, Dr. Root said, "My wife and I have lived in Vero Beach since we married. Our daughter was born and raised and went to school here, graduating from Vero Beach High School. We love the community. It is friendly and safe, and there is a lot to do. It's a small enough town that you see people you know just about anywhere you go. There is a true sense of community spirit here in Vero Beach. We like to think this sense of family is also reflected in the way we treat patients here at Root Dental."
Dedicated to staying active and being of service, Dr. Root helps the community and international service projects through Rotary Club. He also works locally, helping to choose scholarship recipients for our Rotary Club and working with our island cleanup and our Oyster Bed/Sea Grass reclamation project, called RISSA, for the Indian River Lagoon. He was also one of the founders of the major fundraiser for Rotary Club, which has now become a major, annual event in Vero Beach, called the Florida Craft Brew and Wingfest.
In addition, Dr. Root is a past president, active member, and current Director of International Services for the Rotary Club of Vero Beach Sunrise. He is also an immediate past board member of the Vero Beach "Hundred Club," an organization that financially supports the families of police officers and firefighters in times of need.
On the international level, Dr. Root leads a group of Rotarian dentists down to the Dominican Republic every fall to treat impoverished Dominicans. In the spring he also leads a group from Rotary Club to the Dominican Republic to help build aqueducts and work on literacy programs for the children.