Dental Implants or Dentures?
Posted by Dr. Root on Jun 26 2021, 11:30 AM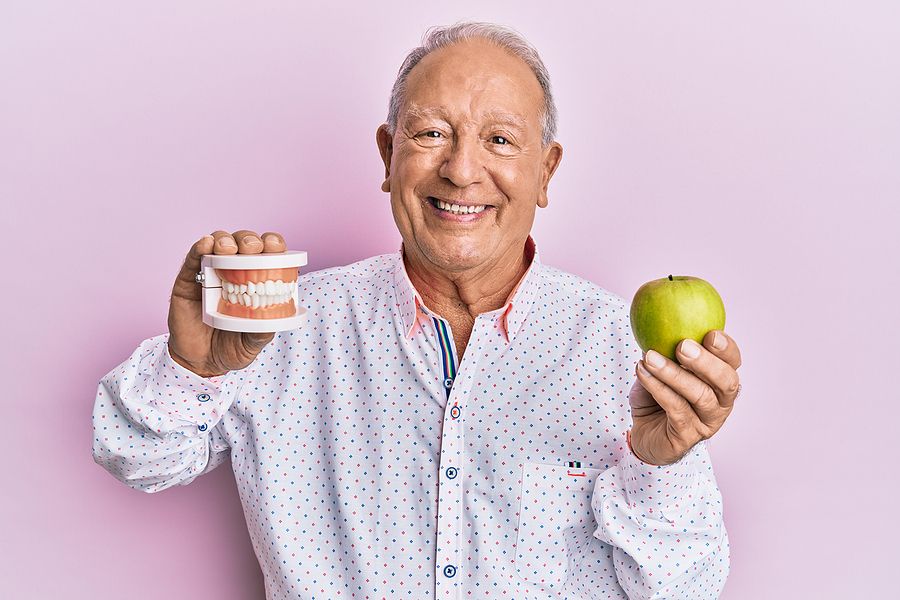 Dental implants and dentures are two of the most popularly used dental prostheses. Implants are primarily single-tooth replacements, whereas dentures are used to replace multiple missing teeth in one go. Both these prostheses have their own set of advantages, making them the go-to solution for restoring the functionality and aesthetics of your mouth.
Comparison Between Dental Implants and Dentures
Dental implants are made from solid and durable materials such as dental-grade ceramic and titanium. Titanium is used to make the metal implant stud that goes into the jawbone, whereas the ceramic crown replaces the visible tooth. Dentures also contain prosthetic crowns made from dental-grade ceramic. They are held together with the help of a base made from gum-colored acrylic.
Dentures can be put on and taken off as and when required, such as while cleaning the mouth, going to bed, cleaning the dentures, etc. Removing and putting them on is quite a simple process and can be done by the patients themselves. Dental implants are fixed to the jawbone firmly with the help of the metal stud and dental adhesives. As and when the jawbone heals, it fuses with the metal implant stud and renders the necessary strength and stability.
Patients who have lost a large number of teeth would be suitable candidates for dentures. It mainly occurs due to aging, ill-effects of medical procedures, or concerns with the jawbone's integrity. Implants are ideal for patients who need fewer teeth restored, such as ones extracted due to damage or decay. Although dentures do not require a healthy bone volume, dental implants certainly do as they are placed in the jawbone itself. It is crucial to hold the implant stable without getting displaced.
Dental implants are, by far, the longest-lasting dental restorations. Once placed in the jawbone, the implant stud almost lasts an entire lifetime. If the crown undergoes any damage or visible wear, it may have to be replaced once a few years. Dentures also last for an impressively long duration, but not as much as implants. As and when you remove them, the chances of you accidentally dropping them are higher. Also, they may sometimes warp when left in the open or when they come in contact with hot or cold liquids.
Dental implants will be customized to match the exact appearance of your adjoining natural teeth. We will look into factors such as color, texture, size, contour, and translucency of the prosthetic tooth. Dentures are just as good as implants in terms of aesthetics, as they are made from highly customizable materials. More importantly, when you put dentures on, they restore the overall contour of your cheeks and chin, thereby making you appear younger.
It is time to get all your dental concerns addressed comprehensively. Please reach out to Root Dental by calling us at (772) 569-0123 or by scheduling an online consultation, and we'll be happy to guide you further.